Description
Rehab Technician I- Towson Sports Medicine- Bellona Location
Job ID: 90531
Area of Interest: Allied Health
Location: Towson,MD US
Hours of Work: rotating
Job Facility: UM St. Joseph Medical Center
Employment Type: Full Time
Shift: ROTATING
What You Will Do:
As a member of the University of Maryland Medical System Towson Sports Medicine is a premier provider of outpatient therapy services. TSM is a highly reputable Outpatient Orthopaedic therapy provider with strong ties to the community.  Our therapists focus on providing high quality patient-oriented care in a great working environment. We have highly experienced staff with low turnover and work in close contact to some of the best orthopaedic doctors in the state.
What You Need to Be Successful:
HS Diploma
Associate's Degree preferred
BLS Certification preferred
State Nursing Assistant Certification preferred
We are an Equal Opportunity/Affirmative Action employer.  All qualified applicants will receive consideration for employment without regard to sex, gender identity, sexual orientation, race, color, religion, national origin, disability, protected veteran status, age, or any other characteristic protected by law.
What is the culture like on your team?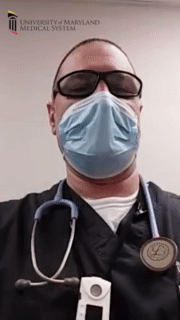 Hi, my name is Paul Palumbo and I'm a respiratory therapist here at St. Joseph's Medical Center. Give you a brief over our department. It's a great department to work for with a fantastic team who always looks out for each other. We get to see a lot of the hospital working in the ICUs, Intermediate Care step-down units, PACU, Emergency Department. I think a great candidate for our department would be somebody who's a team player. We really do treat each other like family. Also somebody who likes to share their knowledge of respiratory therapy and care for their patients at the highest level. What's exciting about our department is that we get to see a lot of the hospital. and we also have a lot of room for advancement. Personally in a year or so that I've been here, I've been able to move into a Charge Therapist role, also an Oriented Therapist role, and be able to experience special procedures like EBUS bronchoscopies and all kinds of other neat things.

Registered Respiratory Therapist
Terms of Service | Need help applying? Contact our HR Connections Service Center: 1-855-486-6747
We are an Equal Opportunity / Affirmative Action employer. All qualified applicants will receive consideration for employment without regard to sex, gender identity, sexual orientation, race, color, religion, national origin, disability, protected veteran status, age, or any other characteristic protected by law. EEO IS THE LAW