Description
Nurse Practitioner (NP) – Soft Tissue
Job ID: 94835
Area of Interest: Advanced Practice Provider
Location: Baltimore,MD US
Hours of Work: S-S
Job Facility: University of Maryland Medical Center
Employment Type: Full Time
Shift: ROTATING
What You Will Do:
Nurse Practitioner – APP STC Neuro
Full-time – Rotating Shift
Baltimore, Maryland
The University of Maryland Medical Center (UMMC) is the flagship academic medical center at the heart of UMMS and includes the 789-bed downtown Baltimore campus and the 177-bed midtown campus one mile north. The medical staff comprises nearly 1,200 attending physicians who are faculty members at the University of Maryland School of Medicine, as well as 900 residents and fellows in all medical specialties.
University of Maryland Medical Center
Nurse Practitioner (NP) or Physician Assistant (PA) – Soft TissueGeneral Position Summary:
Under general supervision, responsible for diagnosing and treating patients in collaboration with physician colleagues. Provide continuity of patient care by facilitating and coordinating communication between the health care team, patient and patient's family. Coordinate care to ensure quality, cost effective care; appropriate length of stay; and patient safety. Serves as link integrating relevant research and best practices.
The following statements are designed to describe the general nature and level of work being performed by the provider assigned to this classification. This description is not intended to be an exhaustive list of all job responsibilities performed by this individual.
Clinical Responsibilities:
• In collaboration with the attending physician, provides day to day organizational and clinical direction and leadership of the healthcare provider team.
• Performs comprehensive history and physical assessment for patients admitted/scheduled to service/practice setting.
• Orders, obtains and interprets appropriate diagnostic tests.
• Establishes medical diagnosis based on history, assessment, and diagnostic findings.
• Designs, orders and documents appropriate treatment plans/plans of care including prescriptions of medications based on a comprehensive review of HPI and diagnostic results.
• Initiates protocols/clinical pathways, evaluates the plan of care ensuring timely intervention.
• Performs invasive procedures.
• Collaborates with attendings and residents regarding admission, discharge and transfer decisions.
• Presents patients in the Nurse Practitioner's caseload on rounds.
• Communicates plan of care with appropriate providers including the attending physician, the primary care provider, the referring provider, the nursing staff, and the case manager.
• Communicates plan of care with the patients and family members. Provides patient and family instruction related to the plan of care, disease process, new treatment plans, and medication regimens.
• Counsels and educates patients and family members in disease process, health maintenance and health promotion activities. Provides primary, secondary, and tertiary preventive care services.
• Initiates appropriate referrals and specialty consultations or other agency involvement as needed.
• Facilitates patient flow. Collaborates with the multidisciplinary team including case management ensuring appropriate and timely discharge.
• Provides specialty consultation.
• Advocates for patients ensuring patient/family participation in care, knowledge of treatment options, and understanding of patient rights.
What You Need to Be Successful:
Master of Science Degree with completion of an appropriate acute care Nurse Practitioner program.  Registered and currently recorded with the Maryland Board of Examiners of Nurses and Certified as a Nurse Practitioner in the State of Maryland.  Certified in area of specialty.  DEA and CDS eligible
CRNP Acute Care, Required
Physician Assistant applicants must have successfully completed a PA program and obtain a Maryland PA license.
BCLS as required
Demonstrated ability to promote professionalism through involvement in professional organizations, teaching, research, publishing, and/or certification in area of specialty.
Ability to demonstrate knowledge and skills necessary to provide care appropriate to the patient population(s) served.  Ability to demonstrate knowledge of the principles of growth and development over the life span and possesses the ability to assess data reflective of the patient's requirements relative to his or her population-specific and age specific needs.
Highly effective verbal and written communication skills are required to interact with patient families, departmental units, medical and nursing staff on all essential matters.  Demonstrated/documented effective interpersonal skills.
Maintains updated hospital safety and other mandatory training.
Updated immunizations as recommended per practice area
We are an Equal Opportunity/Affirmative Action employer.  All qualified applicants will receive consideration for employment without regard to sex, gender identity, sexual orientation, race, color, religion, national origin, disability, protected veteran status, age, or any other characteristic protected by law.
What brings you joy in your role?
Transcript
Working with staff to understand the clinical environment and how patients respond to illness brings me joy to my life. It has helped to enrich my professional career, and hopefully I have helped to enrich the professional lives of others.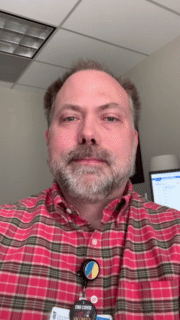 Working with staff to understand the clinical environment and how patients respond to illness brings me joy to my life. It has helped to enrich my professional career, and hopefully I have helped to enrich the professional lives of others.

Nurse Scientist, Trauma and Critical Care
Similar Jobs
No jobs found.

COVID-19 Vaccine
All current and new team members, Medical Staff and partners, including contractors, volunteers and students, must be vaccinated against COVID-19 or have an approved medical or religious exemption.
Terms of Service | Need help applying? Contact our HR Connections Service Center: 1-855-486-6747
We are an Equal Opportunity / Affirmative Action employer. All qualified applicants will receive consideration for employment without regard to sex, gender identity, sexual orientation, race, color, religion, national origin, disability, protected veteran status, age, or any other characteristic protected by law. EEO IS THE LAW