Description
Inpatient Pharmacy Technician
Job ID: 90865
Area of Interest: Allied Health
Location: Baltimore,MD US
Hours of Work: evening, every other weekend
Job Facility: University of Maryland Medical Center
Employment Type: Full Time
Shift: EVENING
What You Will Do:
Inpatient Pharmacy Technician
Full-Time – Evening
Baltimore, MD
Come elevate your skills and experience by working with a world class 800-bed, Magnet designated Academic Medical Center.
We are looking for talented professionals to join our team at the University of Maryland Medical Center.  
Fill orders for unit doses, pre-packaged pharmaceuticals, intravenous admixtures, controlled substances, floor stock, supplemental medications, emergency kits and general stock.
Perform other related pharmacy duties such as drug product recalls, pharmacy area inspections and medication pick-up and delivery to and from patient care areas.
As a Team Member at UMMC, you'll experience:
A supportive and collaborative work environment
A comprehensive benefits package including health, vision and dental coverage including prescription drug coverage, Tax-Free Savings Plans and more!
A highly competitive wage scale: Annual merit increases and a base wage scale that is measured against to market standards.
Generous tuition reimbursement of up to $5,000 per year for your graduate degree.
Located in downtown Baltimore near the Inner Harbor and Camden Yards, you won't find a more vibrant place to work!
What You Need to Be Successful:
HS Diploma
Maryland Board of Pharmacy registration is required for this position.
Successful completion of a Pharmacy Technician Training Program accredited by the American Society of Hospital Health System Pharmacists and National certification preferred.
We are an Equal Opportunity/Affirmative Action employer.  All qualified applicants will receive consideration for employment without regard to sex, gender identity, sexual orientation, race, color, religion, national origin, disability, protected veteran status, age, or any other characteristic protected by law.
Why is it important to you to celebrate Pride in your workplace?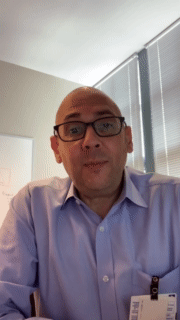 It means a lot to me that UMMC is celebrating pride month this year. Early in my career, I kept a piece of me hidden every time I entered the workplace but eight years ago, when I joined the team here, I made a conscious choice not to do that any longer. I decided that I'm going to bring my whole self to work. So now when I entered the doors of the hospital I'm entering the door as a man who is gay, who has a wonderful husband and has three gorgeous children. I hope I probably celebrating pride UMC. We liberate those that still struggle to bring their whole whole self to work. And as an inaugural chair of UMC pride our employee resource group, I want to thank leadership for providing that platform from which to be heard and to be seen and to be recognized for the contributions that our community provides to the organization.

Director, Strategy and Market Intelligence
Terms of Service | Need help applying? Contact our HR Connections Service Center: 1-855-486-6747
We are an Equal Opportunity / Affirmative Action employer. All qualified applicants will receive consideration for employment without regard to sex, gender identity, sexual orientation, race, color, religion, national origin, disability, protected veteran status, age, or any other characteristic protected by law. EEO IS THE LAW
Related Jobs