Description
Food & Hospitality Services Associate
Job ID: 90054
Area of Interest: Service
Location: Baltimore,MD US
Hours of Work: Sun- Sat 7a-7p
Job Facility: University of Maryland Medical Center
Employment Type: Full Time
Shift: ROTATING
What You Will Do:
Food & Hospitality Services Associate
Full-Time – Rotating   Sun- Sat 7a-7p
Baltimore, MD
Come elevate your skills and experience by working with a world class 800-bed, Magnet designated Academic Medical Center.
We are looking for talented professionals to join our team at the University of Maryland Medical Center.  
Under direct supervision, performs a variety of tasks within the department to ensure that meals are prepared and served to the visitors, employees, and staff of the Medical System consistent with established department standards. This position is utilized in the cafeteria and Public Services areas.
Sets up work stations, ensuring all required items are available before the start of the line. Breaks down work station and cleans area at the end of the line.
Checks food temperatures, ensuring department standards are met.
Informs supervisor of all supplies required before the start of the line.
Informs supervisor or cook of the need to replenish food items in a timely manner so that there is no interruption in service.
Promptly notifies supervisor if items are not available.
Portions, assembles, and serves hot and cold food for cafeteria line according to departmental guidelines, using proper garnishes.
Greets customers courteously, with a smile, and utilizing suggestive selling techniques; notifies supervisor of shortages in food items in a timely manner so that there is no interruption in service. Garnishes food as required.
Completes all tasks with minimal assistance, in a timely fashion, and exercises initiative in responding to needs appropriately as they arise.
Maintains a clean and orderly work environment, ensuring that department standards are met, and that all department activities are conducted in accordance with federal, state, and local health regulations.
Cleans work areas such as tables, counters, and food storage areas; washes equipment and utensils.
Follows Department procedures to ensure the safe handling of all food items including covering, labeling, and dating of food items.
Observes and demonstrates appropriate safety measures in working with kitchen utensils and equipment.
Adheres to HACCP food handling and guidelines. Maintain temperature logs of prepared foods, holding refrigerators, etc.
Maintains compliance with standards of operation for services especially guidelines for food handling and storage and Business Conduct Guidelines. Maintains all records and reports necessary to comply with government and accrediting agency standards, regulations and codes.
As a Team Member at UMMC, you'll experience:
A supportive and collaborative work environment
A comprehensive benefits package including health, vision and dental coverage including prescription drug coverage, Tax-Free Savings Plans and more!
A highly competitive wage scale: Annual merit increases and a base wage scale that is measured against to market standards.
Generous tuition reimbursement of up to $5,000 per year for your graduate degree.
Located in downtown Baltimore near the Inner Harbor and Camden Yards, you won't find a more vibrant place to work!
What You Need to Be Successful:
General work experience preferably in a food service setting is required
We are an Equal Opportunity/Affirmative Action employer.  All qualified applicants will receive consideration for employment without regard to sex, gender identity, sexual orientation, race, color, religion, national origin, disability, protected veteran status, age, or any other characteristic protected by law.
What does Pride Month mean to you?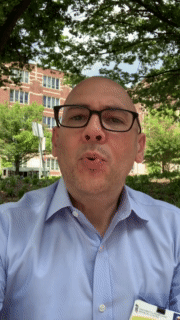 Pride encapsulates the journey in my life to where I am today. I'm a confident gay man, a proud father of three kids, and a happily married husband. I'm also one that believes my whole self is a unique creation of God. In my lifetime, we've had to fight for the right to marry who we love. We've had to fight for the right to be parents and adopt children. We've come a long way in the journey towards justice and equality, but Pride reminds me there's many more steps on the path. Right now Pride reminds me, especially in this time, of our trans brothers and sisters' fight. Right now they're encountering great struggles, and we must march together because we're more powerful together than are we are as one. Lastly, Pride reminds me that of all the struggles that we can overcome today, that's one less struggle that my kids will have to deal with in their lifetime.

Director, Strategy and Market Intelligence
Terms of Service | Need help applying? Contact our HR Connections Service Center: 1-855-486-6747
We are an Equal Opportunity / Affirmative Action employer. All qualified applicants will receive consideration for employment without regard to sex, gender identity, sexual orientation, race, color, religion, national origin, disability, protected veteran status, age, or any other characteristic protected by law. EEO IS THE LAW
Related Jobs