Description
Clinical Nurse II- Wound Clinic
Job ID: 91209
Area of Interest: Nursing
Location: Glen Burnie,MD US
Hours of Work: 0800-1600
Job Facility: UM Baltimore Washington Medical Center
Employment Type: Part Time
Shift: DAY
What You Will Do:
Clinical Nurse – Wound Clinic
Part Time
Under limited supervision, the Registered Nurse is responsible for the assessment of patients including the development, evaluation and modification of the plan of care. The RN interprets and performs complex patient-care procedures specific to their area of expertise. RN's are members of the Care Team and Support Team and have accountability to function as a team to accomplish patient outcomes identified in the pathway/plan of care. The Registered Nurse is a professional care giver who assumes responsibility and accountability for care given to a group of patients for a designated time frame. The RN provides care to those patients via therapeutic use of self, the nursing process, the environment/technology, and other healthcare team member, according to established standards. Patients served include all age groups (Infant through Older Adult as identified in Performance Standards).
What You Need to Be Successful:
Graduation from an accredited nursing education program approved by the Board of Nursing or found by the Board to be substantially equivalent to the programs in Maryland. Currently licensed as an RN in the state of Maryland. Successful completion of a refresher course within past 6 months if nursing practice has not occurred within the past 5 years.
We are an Equal Opportunity/Affirmative Action employer.  All qualified applicants will receive consideration for employment without regard to sex, gender identity, sexual orientation, race, color, religion, national origin, disability, protected veteran status, age, or any other characteristic protected by law.
Similar Jobs
No jobs found.
What is the culture like on your team?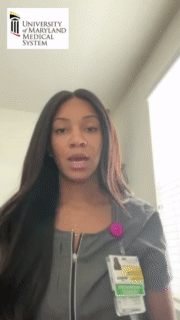 I believe the respiratory therapists within our hospital are very well-respected, and we tend to be valued as a team member when coming to patient care. We work very well with our multi-disciplinary staffing to make sure we come up with the best care for our patients, and our opinions actually matter and they're valued. And you would see that a lot of our physicians and nurses will come to us for recommendations, and we work very well for an overall plan. So this is something that's great for our community.

Terms of Service | Need help applying? Contact our HR Connections Service Center: 1-855-486-6747
We are an Equal Opportunity / Affirmative Action employer. All qualified applicants will receive consideration for employment without regard to sex, gender identity, sexual orientation, race, color, religion, national origin, disability, protected veteran status, age, or any other characteristic protected by law. EEO IS THE LAW