Description
Bone Marrow Transplant Nurse Coordinator/Nurse Navigator (RN)
Job ID: 91175
Area of Interest: Nursing
Location: Baltimore,MD US
Hours of Work: M-F, 8-4
Job Facility: University of Maryland Medical Center
Employment Type: Full Time
Shift: DAY
What You Will Do:
Bone Marrow Transplant – Nurse Coordinator
Full Time – Day ShiftThe University of Maryland Greenebaum Comprehensive Cancer Center (UM-GCCC) Stoler Pavilion houses the Stoler Clinic and Stoler Infusion. The Nurse Coordinator role is a unique outpatient position primarily within the Stoler Clinic. However, due to the complex patient care needs, the Nurse Coordinator is actively involved in the continuum of care, whether it be while the patient is admitted, pursuing testing in another area of the hospital or community, or within the clinic during a provider visit.
The Nurse Coordinator works alongside one or two outpatient UM-GCCC attending physicians. Our physicians specialize in specific oncology diagnoses which allows the Nurse Coordinator to become well-versed in the specialized needs of the patients under their care. Together with the attending physician and clinic Medical Assistant (MA) or Patient Care Technician (PCT), the Nurse Coordinator will manage the ongoing needs of the patient.
Each day in Stoler Clinic varies. During an Attending Physicians scheduled clinic, the MA/PCT assists in efficient patient flow, and the Nurse Coordinator will assist with the active treatment of patients to insure patient awareness of the upcoming plan, whether it be for chemotherapy, routine follow up, surveillance scans, or referrals to specialists outside of Stoler Clinic. On non-clinic days, Nurse Coordinators can expect to see scheduled nurse visits for education and/or symptom management, review active treatment patient schedules, prepare for the clinic (ensuring that patients have appointments scheduled, lab orders are signed ahead of time, chemotherapy Beacon Treatment Plans have been signed, etc.), and return calls to patients as received via the Patient Assistance Line (the UM-GCCC call center).
In a nutshell, the Nurse Coordinator functions as the quarterback of the care team to ensure the patients understand and is on track with their treatment plan.  This may include delegating tasks to ancillary staff (scheduling and authorization coordinators as well as MA/PCTs). It is a role that requires an understanding of Oncology, organization, confidence, diligence and is integral to the experience of the oncology patients being seen at UM-GCCC.
What You Need to Be Successful:
Graduation from an accredited school of nursing, with a Bachelor's degree in Nursing, required Licensure as a Registered Nurse in the state of Maryland, or is eligible to practice due to compact state requirements outlined by the Maryland Board of Nursing. Oncology or Critical Care experience preferred.
We are an Equal Opportunity/Affirmative Action employer.  All qualified applicants will receive consideration for employment without regard to sex, gender identity, sexual orientation, race, color, religion, national origin, disability, protected veteran status, age, or any other characteristic protected by law.
Similar Jobs
No jobs found.
What brings you joy in your role?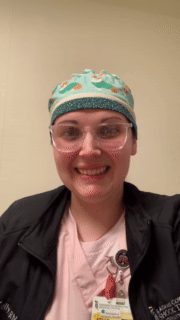 What brings me joy in my role as a bedside nurse in the shock trauma post anesthesia care unit are the people I work with. We have excellent teamwork and I know we can handle anything the shift brings us. I also enjoy taking care of patients on what could possibly be the worst day of their life. Our patients don't typically plan on being in the hospital and I enjoy bringing some stability, comfort, and clarity to their stay, for both the patient and their loved ones.

Registered Nurse, Trauma PACU
Terms of Service | Need help applying? Contact our HR Connections Service Center: 1-855-486-6747
We are an Equal Opportunity / Affirmative Action employer. All qualified applicants will receive consideration for employment without regard to sex, gender identity, sexual orientation, race, color, religion, national origin, disability, protected veteran status, age, or any other characteristic protected by law. EEO IS THE LAW